Bacon Stuffed Squash
Most of us are still knee deep in summer squash. It is a great vegetable and this is really the only time of the year that I find it flavorful. This recipe is an addition to the long list of meals I have been making with squash/zucchini: breads, pancakes, quiche, pasta dishes and now stuffed. I based this recipe on one from the blog Farm Flavor for Garden Stuffed Yellow Squash. I changed the cooking technique to roasting along with switching some ingredients. I also sautéed the stuffing in the bacon fat... because I just couldn't let that potent flavored substance go to waste. I hope you will enjoy this dish as much as we did.
Bacon Stuffed Squash
by Diane Balch
Prep time: 30 minutes Serves: 4 - 6
INGREDIENTS:
3 large yellow squash halved and seeds removed
Olive oil
salt and pepper to taste
Stuffing:
4 strips of bacon chopped small
2 cups of crumbled ritz (or other buttery cracker) (Schar gluten-free crackers)
1 red pepper minced
1 small onion minced
1/4 teaspoon of Mexican Style Chili Powder or other hot chili powder
1 cup of shredded Mexican Blended Cheese or Shredded Sharp Cheddar
DIRECTIONS:
1) Pre-heat the oven to 450 degrees
2) Halve the squash and scoop out just the seeds. Lay the squash insides up in a large baking dish. Baste with olive oil and salt and pepper the squash. Bake them in the oven for 30 minutes or until the squash is tender and slightly brown. If they do not brown put the oven on broil for 2 minutes to brown them.
3) While the squash is roasting, cook the chopped bacon in a medium size skillet. When the bacon is cooked set it aside in a bowl and drain some of the fat from the pan. Leave a good coating of fat to cook the stuffing in, do not discard the fat in case you want to add more to the stuffing.
4) On medium heat sauté the onion and red pepper until they are limp add chili powder and crumbled crackers. Stir continually until the crackers begin to brown. Add the bacon into the mixture and set it aside until the squash is done.
5) When the squash is done put a large packed scoop of the stuffing in the area of the squash that you removed the seeds. Top the squash with cheese.
6) Return squash to the oven and on broil melt and lightly brown the cheese, approximately 2 minutes.

Spotlight from Last Week's Party:
From: Noshing with the Nolands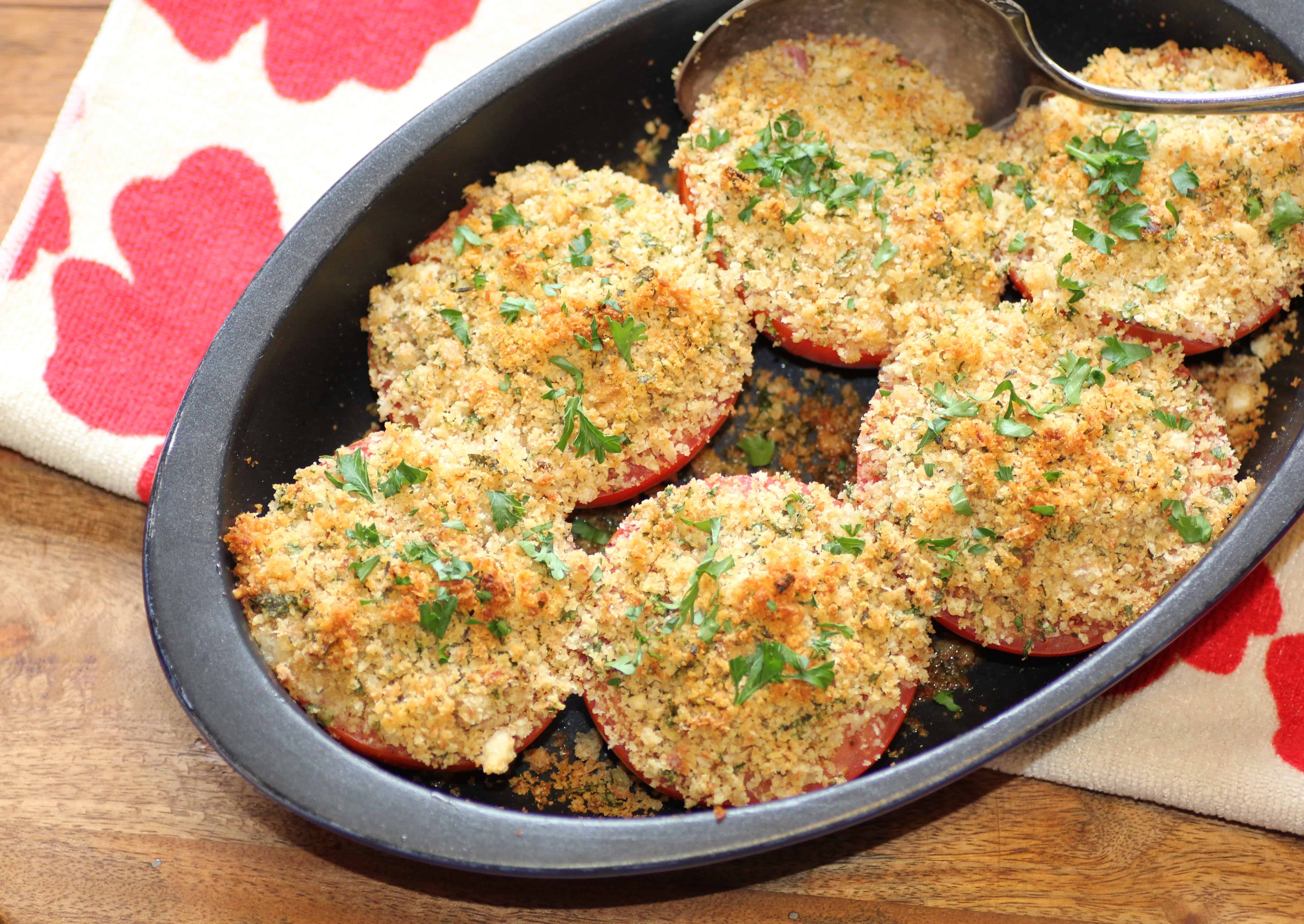 It is just about tomato time. This dish really lets your fresh tomatoes shine in a cooked dish instead of a cold salad.
From: Feeding My Temple
Tired of corn on the cob and zucchini bread? These pancakes show off both of these seasonal finds in a new light.
From: Tartans Taste in Texas
In honor of the United Kingdom, host of the Olympics... I give you a favorite Scottish teatime treat. This cake looks incredible, yet it is simple to make. You can put any flavor jam you want in the filling.
I have been very busy on Fridays this summer and I apologize again that I may not reply to your comments until Sunday. I will be attending
BlogHer
this Thursday until Saturday.
This is a food party please only link up food related posts. Thank you.
Instructions for Foodie Friday linky:
SUBSCRIBE TO THIS BLOG BY EMAIL OR RSS... or FRIEND ME ON FACEBOOK

1) Copy the Foodie Friday Button's html from this website's sidebar.

2) Paste this html to the html page of the recipe you want to link to Foodie Friday. You can also make a word link or post our button on your sidebar. Please link back.
3) Copy the link to the recipes you want to add to Foodie Friday, not your homepage. You can post up to 3 recipes that you have not shared before.

4) Click on "your next" on this page.

5) Past your link and type in the name of the recipe, not your name.

6) Choose how you want to download the photo.
Related articles