When P.F. Chang's asked me to write about their new Winter Seasonal Menu I jumped at the chance. You see lunch at P.F. Chang's was a sure way to charm my growing teenagers to take a trip to the mall. My teens are a bit unusual. They don't actually like to go shopping.. which in the long run will save them money, but right now they are growing so quickly...they need clothes.
I haven't been to P.F. Chang's in quite a while. I used to love meeting girlfriends there for lunch or a girl's night out, but it's been a while.
The atmosphere was as I remembered it: open, lively with pleasant lighting. My daughter and I were very excited to try some of the new dishes. We split the Chili Shrimp Bao which is like an Asian slider. The shrimp is wrapped in a pillowy bao bun and filled with daikon, carrots, and cucumbers. The waiter asked us what level of spiciness we wanted in the sauce, and he then mixed it for us right at the table.
Because we were there for lunch we didn't get to try any of the new dinner entrees. We already have plans to return. My son didn't come with us, and when his pants turn into capris; I think we might get him to the mall to buy a few pairs.
When we return I'm going to order the new Miso Glazed Salmon that is served with grilled bok choy and daikon in a savory broth.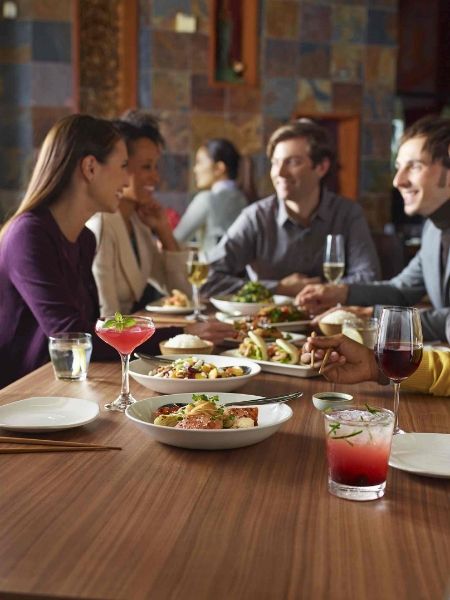 My daughter has her heart set on the Firecracker Chicken because it comes with pineapple her favorite fruit. I think the Chinese broccoli, mushrooms and peppers that come with it all in a hoisin sauce, sounds delicious.
But for now we had to settle on what to have for dessert. My daughter was very open to trying the new menu items, so we choose the Chocolate Raspberry Wontons.
We were not disappointed. The wontons were deep fried and filled with warm chocolate. The raspberry sauce was rich in flavor, and we enjoyed having fresh raspberries with it too.
Check out the new menu for yourself:
Winter Seasonal Menu
All and all a very satisfying meal and a productive shopping trip. A toast to P.F. Chang's new menu and New Year's wishes for good food, prosperity, and excellent shopping.
It is the Chinese year of the Horse... so gallop down to P.J. Chang's and check out their celebratory menu. Let me know in the comments section which new menu items you would like to try....
If you start following P.F. Chang's you'll be able to keep up to date on their special offers. Like right now you can down load a coupon from their website: pfchangs.com/winter giving you $10 off any bill that is $40 or more.
Follow @pfchangs
Follow P.F. Chang's on Pinterest
This is a Sponsored post written by me on behalf of
P.F. Chang's
for
SocialSpark
. All opinions are 100% mine.